ECRA – European Committee for Rope Access
Representing more than 20.000 rope access technicians worldwide
The field of rope access is getting more and more international and co-operation beyond national borders becomes more important every day.

On this account the rope access associations ANETVA (Spain), FISAT (Germany), France Travaux sur Cordes (France; represented by SFETH/DPMC until 2020) and SOFT (Norway) founded ECRA, the European Committee for Rope Access, representing more than 20.000 rope access technicians worldwide.
The main purpose of ECRA is to share safety issues, keep the high standard and develop the basic topics safety, training, assessment and ergonomics even further.

A declaration (download here) defining the minimum standards for rope access and proving the acknowledgement of the four associations has been signed in June 2012.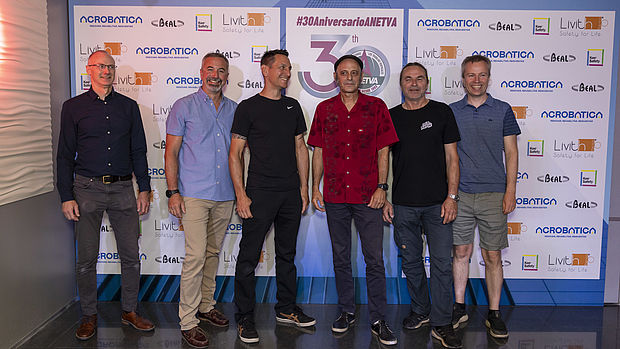 June 2023 – Celebrating ANETVA's 30th Anniversary
Networking in Madrid
Feliz cumpleaños ANETVA and thank you very much for your work and your tireless commitment.
Besides the festivities for the 30th anniversary of ANETVA, there was plenty of time to exchange news and ideas. Developments, challenges and opportunities in the respective countries have been discussed. Next meeting will take place during A+A in Duesseldorf. Visit representatives at the FISAT booth A41 in hall 1 between October 24th and 27th, 2023.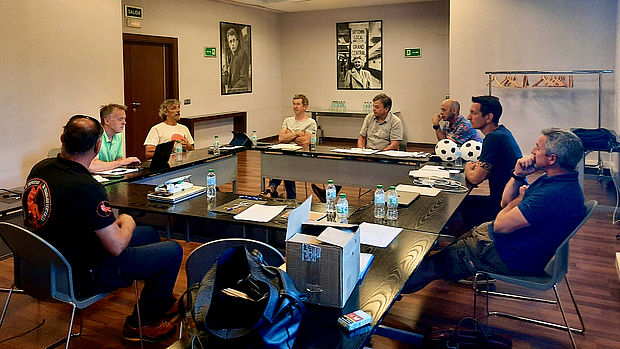 June 2022 – Meeting in Madrid (Spain)
First meeting after a two-year break
Since the covid pandemic had an impact on travel and face-to-face meetings, exchange among ECRA members has been limited to random video calls during 2020 and 2021. After a two-year break, representatives of the four associations met in Madrid.
It was important to everyone involved to intensify contact again and to communicate with one another regarding current events and developments in the associations and the respective countries.
On the positive side, the need for rope access technicians is increasing in France, Norway, Spain, and Germany.
Compliance with the declaration signed in 2012 has been confirmed by the four member associations.